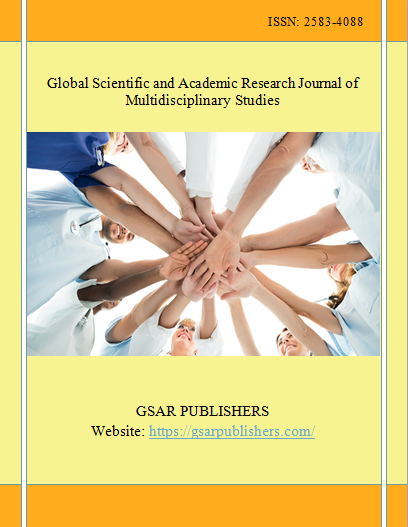 Global Scientific and Academic Research Journal of Multidisciplinary Studies
Frequency: Monthly
Publisher: GSAR Publishers.
Address: Karaiguri, Hojai, Assam 782440 (India)
Country of Origin: India
Language: English
Chief Editor: Dr. Smita Ghosh
Global Scientific and Academic Research Journal of Multidisciplinary Studies ISSN: 2583-4088 is an open access peer-reviewed, monthly international journal Published by GSAR Publishers. It is dedicated to publish and disseminate the high-quality scientific research work in the broad field of Multidisciplinary Areas. It aims to publish peer-reviewed original research, theoretical and practical advances in Multidisciplinary Areas. The goal of this journal is to provide a platform for scientists and academicians all over the world to promote, share, and discuss various new findings and developments in different areas of Multidisciplinary Areas
The subjects, in specific, covered by the journal include:
Agricultural, Sciences,Archeology, Astrobiology, Biochemistry, Biodiversity and Conservation, Bioinformatics, Biological Sciences, Biology, Biotechnology, Developmental Biology, Ecology, Entomology, Environmental Science, Evolutionary Biology, Genetics, Histology, Ichthyology, Immunology, Life Sciences, Limnology, Malacology, Marine Sciences, Microbiology, Molecular Biology, Neuroscience, Paleontology, Physiology, Quantum Biology, Structural Biology, System biology, Theoretical Biology, Toxicology, Virology, Zoology, Health Sciences, Anesthesiology, Bariatrics, Critical care medicine, Dermatology, Emergency medicine, Family medicine, General Practice, Hematology, Infectious disease, Kinesiology, Laboratory medicine, Medical physics, Medicine and Dentistry, Neurology, Nursing and Health Professions, Nutrition and Metabolism, Oncology, Ophthalmology, Otolaryngology Pathology, Pharmaceutical Science, Pharmacology and Toxicology, Pharmacology, Psychiatry, Public health and preventive medicine, Radiology, Siddha and Ayurveda, Splanchnology, Surgery, Urology, Veterinary Medicine, Veterinary Science, Chemical Sciences, Arts and Humanities, Business Management, Chemical Engineering, Computer Science, Decision Science, Earth and Planetary Science, Economics, Education, Energy, Engineering, Engineering & Technology, Engineering Sciences, English Literature, Finance, Hindi Literature, History, Hotel Management, Information Technology, Law, Linguistics and Languages, Management, Material Science, Mathematical and Statistical Sciences, Mathematics, Physical Education, Physical Sciences, Physics and Astronomy, Political Science, Psychology, Religion Studies, Sanakrit Literature Tourism, Accounting, Banking, Business and Marketing, E-Commerce, Economics, Enterprise Resource Planning, Financial Development Human Resources, Income Tax, Insurance Marketing, IT in Business, Managemen,  Modern Banking etc.
Editor In Chief
Dr. Smita Ghosh: Counselling Psychologist(PhD).IGNOU Academic Counsellor, BAOU (Content Developer) India 
Associate Editors
Dr. Collen Kajongwe:Senior Lecturer Department of Human Resources Management at Manicaland State University of Applied Sciences Zimbabwe. 
Nilufar R.Akhmedova: Associate professor, Department of Called Hospital Pediatrics, Traditional Medical, Uzbek. 
Akmal Rakhmatullaev MD, PhD, DSc: Dean of First Pediatric Faculty of Tashkent Pediatric Medical Institute 
Dr.P.Sukumar Ph.D : Professor, Department Electronics & Communication Engineering, Nandha Engineering Collage (Autonomous) Anna University, Chennai. India. 
Mojgan Soleimanizade: Assistant professor of plant biotechnology at Hormozgan University. Iran 

Dr Esbosyn P. Sadykov, Doctor of Philosophy in Agriculture,Deputy Director for Science and Innovation of the Scientific and Production Association of Grain and Rice in the Republic of Karakalpakstan