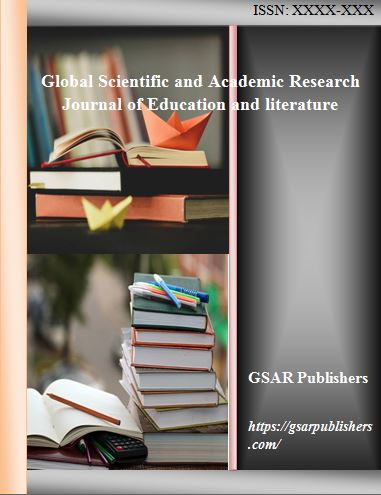 Global Scientific and Academic Research Journal of Education and literature
Frequency: Monthly
Publisher: GSAR Publishers.
Address: Karaiguri, Hojai, Assam 782440 (India)
Country of Origin: India
Language: English
Chief Editor: Dr.Maganlal Shivabhai Molia
Journal starting year: (March) 2023
Frequency: Monthly
AIM
Global Scientific and Academic Research Journal of Education and literature ISSN: XXXX-XXXX is an open access peer-reviewed, monthly international journal Published by GSAR Publishers. The journal focuses on promoting multidisciplinary studies in Education and literature and has become the world's leading textbook on Education and literature. Authors are invited to contribute to this journal by submitting Original Research Articles, Review, Short Communications, Case Studies, and Essays. GSARJEL publishes research papers across all academic disciplines in the Education & Literature fields.
SCOPE
The journal publishes research papers in the fields of Education & Literature such as Education Psycology, Art Education, Social Education, Adult Education, Education Administration, Educational Planning, Educational Theories, Educational Policy, Curriculum Study, E-Learning, Higher Education, Health Education, Business Education, Teaching problems, Technical Education, Pedagogy, Teaching Practice, Teaching Phylosoy, Methods of Teaching, Learning Practice, Teacher Studen Relation, Innovation in Teaching, Teacher Student Responsibility, Special Education, Science Education, Media and Music Education, Teaching and Reading Skills, Web-Based Learning, Teaching Online Education, English Language Teaching, English Globalization, Literature Study, Linguistics Study, Applied Linguistics, Language and Technology, Language Teaching, Language Teaching Skills, Language Acquisition, Bilingualism, Biolinguistics, Corpuse Linguistics, Computational Linguistics, Language Assessment, Communicative Language Teaching (CLT), Task Based Language Teaching (TBLT), Translation Studies, Discourse Analysis, Comparative Literature, Psycholinguistics, Theoretical Linguistics.
Editor In Chief
Dr.Maganlal Shivabhai Molia: Professor, Department Of Education, Saurashtra University, Rajkot- 360 005 (Guj.India) Email: msmolia2000@yahoo.com
Associate Editors